I'm having yet another busy day. I'm getting my hair cut in preparation for Friday's newspaper photo shoot and the big May book tour, I have a ton of promo stuff to get done, and I need to get groceries. I was going to get groceries on the way home from class yesterday, but as I went to open the building door to leave and head home, the tornado sirens went off. They then herded everyone into the classrooms on the lower level of the building that are designated storm shelters, where we waited for about twenty minutes before the all-clear. I never did hear what the alleged tornado that was threatening us really was (no reports of damage in the general area of the school), but when you've just emerged from a tornado shelter and it's still pouring rain, you really don't want to go to the grocery store. I had a frozen pizza for dinner, but now I'm approaching popcorn and a multivitamin as a meal option, so I really need to shop. That makes it a good time for a Girlfriends Cyber Circuit entry,
The Secret Identity of Devon Delaney
, the new book by Lauren Barnholdt, author of
Reality Chick
.
While Devon was living with her grandmother for the summer, she told her "summer friend," Lexi, that she was really popular back home and dating Jared Bentley, only the most popular guy at school. Harmless lies, right? Wrong. Not when Lexi is standing at the front of Devon's class, having just moved to Devon's town. Uh-oh.
Devon knows there's only one way to handle this -- she'll just have to become popular! But how is Devon supposed to accomplish that when she's never even talked to Jared, much less dated him?! And it seems the more Devon tries to keep up her "image," the more things go wrong. Her family thinks she's nuts, her best friend won't speak to her, and, as if it's not all complicated enough, Jared starts crushing on Lexi and Devon starts crushing on Jared's best friend, Luke. It all has Devon wondering -- who is the real Devon Delaney?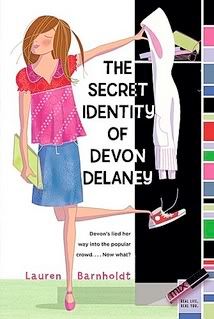 What was the inspiration behind this book?
When my friends and I were in junior high, we were dating this group of guys from another school. So we made it seem like we were super popular at our school, and that all the boys wanted us. Which wasn't even close to being true. One night some of the guys we lied to played basketball against some of the boys from our school who supposedly wanted us, and I just kept thinking, God, I hope none of them talk. And that was the inspiration for THE SECRET IDENTITY OF DEVON DELANEY. Only, unlike in my situation, poor Devon's lies catch up with her.
Have you ever created an alternate identity for yourself, and how did that go?
See above. I guess it went okay, since I never really got caught. But it was kind of hard to keep up with all the scandals and lies ;)
What were some of your favorite authors/books when you were a tween or teen?
I was OBSESSED (as I think most girls were) with The Baby-Sitters Club. I remember getting the first four books in box set and reading them all in one weekend.
Was writing this book more difficult or easier than your first one?
The writing for this book was easier for me than any book I've written. I don't know why, but it just really flowed.
What are you working on now?
My latest YA book, TWO-WAY STREET will be out in June, and right now I'm writing my next tween book, which will be out sometime next year.
Is there anything else you'd like to say about this book or the process of writing it?
Just that Devon is my favorite character that I've ever written, and I hope you all love her as much as I do!
For more info, visit
Lauren's web site
.
Sound good?
Click here to order THE SECRET IDENTITY OF DEVON DELANEY!