I'm off to spend some quality time with the parental units (who were threatening to visit me if I didn't, and that would require house cleaning, so off I go!), but in the meantime, here's our latest Girlfriends Cyber Circuit entry,
The Disreputable History of Frankie Landau Banks
by repeat GCC guest E. Lockhart (author of
Dramarama
and
The Boyfriend List
).
I think the jacket copy is clever enough that I'm not going to try to rewrite my own summary:
Frankie Landau-Banks at age 14:
Debate Club.
Her father's "bunny rabbit."
A mildly geeky girl attending a highly competitive boarding school.
Frankie Landau-Banks at age 15:
A knockout figure.
A sharp tongue.
A chip on her shoulder.
And a gorgeous new senior boyfriend: the supremely goofy, word-obsessed Matthew Livingston.
Frankie Laundau-Banks.
No longer the kind of girl to take "no" for an answer.
Especially when "no" means she's excluded from her boyfriend's all-male secret society.
Not when her ex boyfriend shows up in the strangest of places.
Not when she knows she's smarter than any of them.
When she knows Matthew's lying to her.
And when there are so many, many pranks to be done.
Frankie Landau-Banks, at age 16:
Possibly a criminal mastermind. 
This is the story of how she got that way.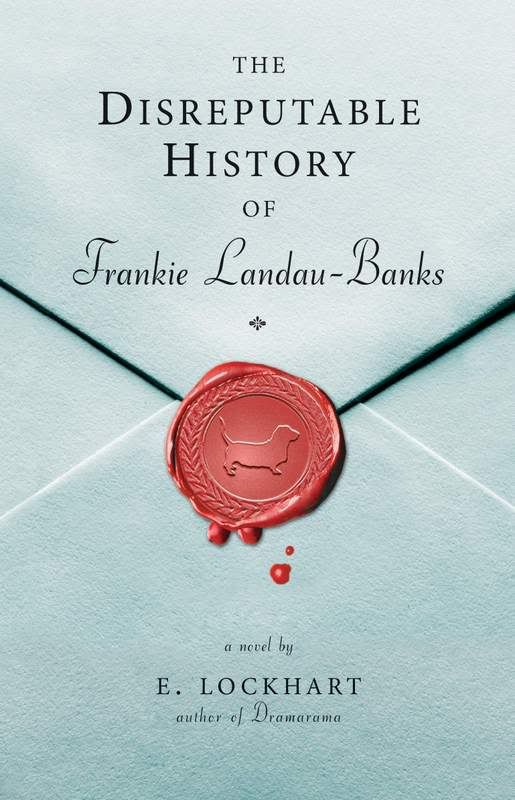 And now the interview:
What inspired this book?
The Disreputable History of Frankie Landau-Banks started from my vestigal anger at the old boys' network that still exists and still wields tremendous power, even in this age of equality. That makes it sound boring, though, right?
It also started from my memories of various campus escapades I got up to in college -- midnight parties on the golf course, sneaking into the chapel, streaking through the Shakespeare garden. I wanted to write a book that would capture some of the hijinks of those days -- only the adventures I invented were on a much larger scale than anything I ever actually did. 
It seems that the teen years are times of rapid change -- which may be how a slightly nerdy ten can become a criminal mastermind a couple of years later. Did you experience any dramatic changes in your teen years (even if you didn't become a criminal)?
If I became a criminal, I'm not telling you on the internet!  :)  
I did, however, go from being so unpopular people moved away from me if I sat near them at lunch -- to being very popular, on the prom committee, boyfriends, school plays, and writing the humor column for the school paper. Just by changing schools.  That experience made me very interested in the social heirarchies of environments like high school or summer camp -- a subject which comes up in nearly all my books. 
Have there been any groups you wanted to be part of that you were left out of?
Sure. But never anything so concrete as the secret society in the book -- The Loyal Order of the Basset Hounds.  Discrimination and exclusion can be subtle. 
What else are you working on now?
I am writing the third in the series that started with The Boyfriend List and The Boy Book. There will be a fourth as well!  And on May 6 my book
How to Be Bad
, co-written with Lauren Myracle and Sarah Mlynowski. It's a road trip novel and it was so fun to write! (Unlike The Disreputable History, which was absolute torture, like bleeding onto the page.) Plus, Sarah and Lauren are really, really funny, so it came out good. 
For more info, check out
her web site
, or
buy the book from Powell's
.
In other news, I'm starting to get some advance reviews on
Don't Hex With Texas
, and I got four and a half stars from Romantic Times, though I haven't seen the review itself yet, and I got a really nice review from Booklist. So, yay, looks like yet another book doesn't totally suck. Yes, I still get insecure about these things.